Enterprise-level technology is complex. Every stakeholder at every executive level has their own varied understanding of tech infrastructure, and each constantly asks for better tools, simplified processes, and faster innovation.
But it's not that easy. Ensuring you have the right infrastructure in place—one that not only fits your current needs, but is also flexible enough to handle emerging technologies—takes time and research. Most of all, it takes a deep understanding of the tech you're already using.
Don't worry, we're here to help.
Our new eBook, The Redapt Technical Maturity Framework, describes in detail how our model can help you cut through the clutter so you can move forward with implementing the right solutions for your company.
In the eBook, we cover:
What a technical maturity model is and why you should even worry about it in the first place
Overview of Redapt's Technical Maturity Framework
Detailed explanation of each component of the maturity framework
How to apply the framework to your business
Examples of the framework at work
By adopting the technical maturity framework, you will be able to create clear priorities that tie technology to the rest of your business. You'll also be able to easily include the team that will be implementing technology for an inclusive framework of forward progress.
Here's a snippet from the eBook that will help you gain a better understanding of what maturity models are before you think about how to apply them to your business.
What is a technical maturity model?
A technical maturity model is fairly intuitive to understand once you relate it back to the concept of maturity in an organization.
Mature organizations use a continuous improvement method, which is characterized by proactive problem solving and a solutions-oriented mindset.
Organizations with low maturity levels tend to react to problems as they arise. This creates a situation that leaves everyone in a continual cycle of responding to daily problems without gaining traction over the systems at play. There may be a strategy in place, but organizations in reaction mode never seem to make headway.
This is exactly the kind of challenge that led to this solution. Maturity models were actually developed in the 1980s, when a military software project veered off-track. The deliverables were both late and incomplete. The client (the U.S. Air Force) was upset. But more importantly, they wanted to make sure this never happened again. They funded a study, which turned into the prototype for the maturity framework.
The technical maturity model seeks to measure how well the organization's efforts produce outcomes, related to enterprise technology.
Used effectively, it provides a roadmap to implement a technical project and a repeatable evolutionary framework to guide your organization toward high maturity where it matters most.
Why even worry about a maturity model in the first place?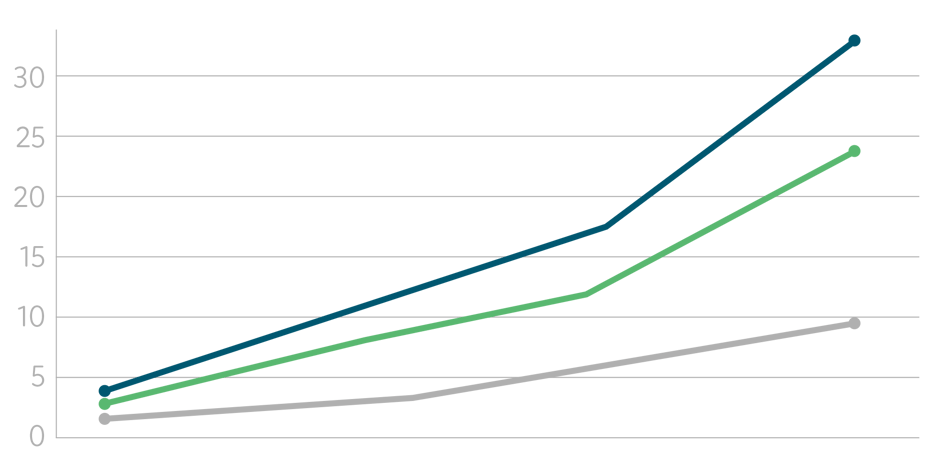 Because it makes your graphs look pretty!
In actuality, to a systems thinker, the need for a technical maturity model is obvious. Let's say you're not convinced—or maybe you need to convince a key stakeholder to get on board, and they don't see the immediate benefits of this approach.
Here are a few of the reasons your business should care about maturity models:
1. Aligns technology investments to business objectives
You know what you need to keep enterprise technology running smoothly—and you know that you've got to explain it without using jargon to get budgeting and approval.
The maturity model helps you tether needed tech investments to business objectives, so you can easily make the case to business owners and stakeholders.
2. Competing priorities
You've got a room full of high-level managers, all with their own needs and goals. Who do you please first?
That pause while you tried to figure it out is exactly why organizations need a technical maturity model: when you're playing the intermediary among colleagues from different departments, each with competing priorities, it's nearly impossible to find consensus.
Without consensus, progress comes to a standstill.
If you want to move forward with consensus, it helps to have a maturity model pointing the way.
3. Chaos due to rapidly emerging tech
You might love all the rapidly emerging technologies (there's always a new toy to play with!), but implementing them successfully can be chaotic.
The good news? It doesn't have to be. The maturity model cuts through the noise to highlight strategic improvements to implement first.
4. Lack of standards
By providing standards, the technical maturity model helps you measure progress over time.
It's a big personal win when you can see your hard work pay off. From an objective point of view, the ability to demonstrate measured progress using qualitative data cannot be overstated.
It all goes back to one simple idea: you can't manage what you can't measure.
5. Solutions overwhelm
When companies can't execute digital transformation, insufficient foresight and competing priorities are often to blame.
Since the maturity model stresses incremental change, it prevents the type of overwhelming solutions that can derail a project midstream (or worse, prevent work from ever getting started).
Rather than overhaul everything at once, when you follow the maturity model, you'll always see the path forward—and focus only on the next level of solutions.
6. Shows improvements to manage up and down the organization
Jumping in to improving technology can be hazardous without first measuring your current technological maturity. After all, if you're renovating a house, you wouldn't order all new furnishings before stepping through the door for the first time.
By following the maturity model, companies are able to thoroughly understand their technological needs and can triage which technologies need to be improved first. They can then properly measure how effective those incremental improvements are before moving forward.
---
Start alleviating your enterprise tech headaches and download the free eBook. And as always, if you have any questions about data infrastructure, we'd be happy to talk with you.