Intel
and Redapt
As an Advanced Intel Platinum Partner, we help enterprises with multi-cloud datacenter solutions and cloud-native enablement.
Working together
to deliver the right solutions
Our team of experts has the capabilities and expertise to help modernize your enterprise infrastructure to drive efficiency and organizational performance.

As an Advanced Intel Platinum Partner, we are instrumental in enabling enterprise and hyperscale companies with turn-key datacenter infrastructure and emerging technology adoption.

We excel at system integration of datacenter and enterprise infrastructure, cloud-native adoption, and workload performance optimization.

Success Stories
Deploying Datacenter Infrastructure at Scale for a Major SaaS Provider
To exceed its application performance standards, a publicly traded SaaS client relies on dedicated datacenter infrastructure. To keep pace with global growth, it turned to Redapt for datacenter hardware, rack integration services, and international transportation logistics.
Additional resources
Increase your cloud expertise.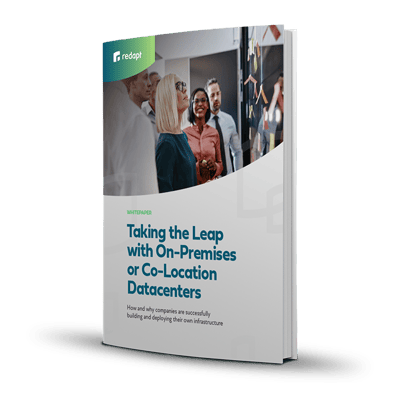 White Paper
Taking the Leap with On-Premises or Co-Location Datacenters
In this whitepaper, we're taking a look at this growing trend. Specifically, we will be examining and explaining:
• Why companies are going the on-premises or co-location route
• Considerations before building your own datacenter infrastructure
• What goes into on-premises or co-location datacenters
Contact us to gain clarity
with Intel
Keep up with Redapt
Stay informed on our latest developments, updates, and services. Sign up for our newsletter today.