This is Redapt, reimagined
We're excited to roll out our new brand! Check out the video below to learn more.
Hi
we're Redapt
End-to-end solutions, from bare metal to cloud
We'll be the first to acknowledge that your issues are probably complex, and multi-faceted. You deserve an experienced partner that will help navigate your technological challenges and obstacles, while also providing the clarity you need to confidently accelerate growth and meet your business goals.
What challenges do you need to tackle?
We'll bring clarity to your complex technological issues
Success Stories
Transforming a Rigid Application and Data Structure into a Streamlined Cloud-Native Patient Claim Processing Platform
When a northwest health solutions company targeted moving its patient claim processing application and data to the cloud, they partnered with Redapt's cloud engineering team to migrate and modernize.
From an Unstable Data Storage Infrastructure to the Ability to Update Data Every 15 Minutes
When online insurance marketplace QuoteWizard recognized its data storage infrastructure was unreliable, it partnered with Redapt on a sustainable fix.
Taking RepairPal to Google Cloud
When the innovative car care company wanted to begin using the Google Cloud Platform, it partnered with Redapt to make their migration a smooth one.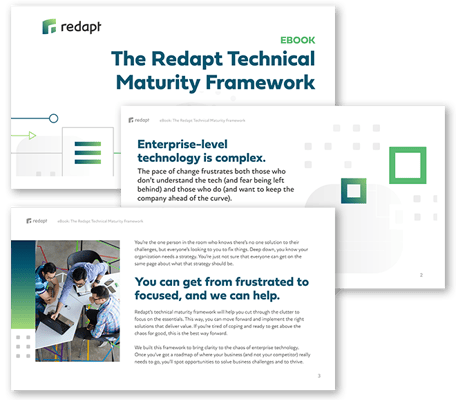 EBook
Read about it in our eBook: The Redapt Technical Maturity Framework
Contact us to gain a little more clarity
We love a challenge. Tell us about your needs and goals, and the obstacles in your way. We'll help you find solutions to get past them.
Get in touch directly:
results@redapt.com
(425) 882-0400
Keep up with Redapt
Stay informed on our latest developments, updates, and services. Sign up for our newsletter today.