This is Redapt, reimagined
We're excited to roll out our new brand! Check out the video below to learn more.
Hi
we're Redapt
End-to-end solutions, from bare metal to cloud
We'll be the first to acknowledge that your issues are probably complex, and multi-faceted. You deserve an experienced partner that will help navigate your technological challenges and obstacles, while also providing the clarity you need to confidently accelerate growth and meet your business goals.
What challenges do you need to tackle?
We'll bring clarity to your complex technological issues
Success Stories
Putting Advanced Analytics to Work
With a massive amount of data siloed in various plants, a global manufacturing company turned to Redapt for help.
Making the Move to the Cloud
When a conferencing solutions company wanted to improve developer productivity without the worry of hardware and network management, it partnered with Redapt to move to the cloud.
Migrating to AWS with a Clear Understanding of Costs
Moving on-premises datacenters and to AWS with tools in place to monitor ongoing investment.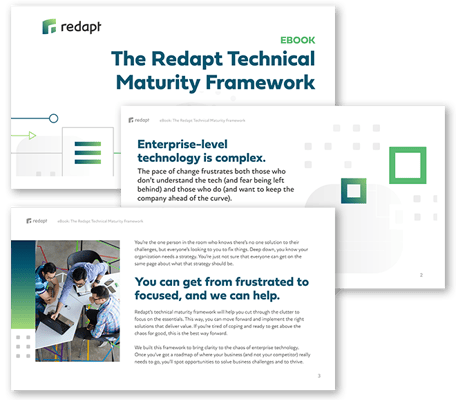 EBook
Read about it in our eBook: The Redapt Technical Maturity Framework
Contact us to gain a little more clarity
We love a challenge. Tell us about your needs and goals, and the obstacles in your way. We'll help you find solutions to get past them.
Get in touch directly:
results@redapt.com
(425) 882-0400
Keep up with Redapt
Stay informed on our latest developments, updates, and services. Sign up for our newsletter today.