This is Redapt, reimagined
We're excited to roll out our new brand! Check out the video below to learn more.
Hi
we're Redapt
End-to-end solutions, from bare metal to cloud
We'll be the first to acknowledge that your issues are probably complex, and multi-faceted. You deserve an experienced partner that will help navigate your technological challenges and obstacles, while also providing the clarity you need to confidently accelerate growth and meet your business goals.
What challenges do you need to tackle?
We'll bring clarity to your complex technological issues
Success Stories
Helping eCommerce Company Lulus Scale Better, Faster, and Cheaper
When Lulus achieved a scale that was leading to runaway costs, they partnered with us to move their eCommerce platform to the Google Cloud Platform.
Using Data to Intelligently Aquire New Customers and Guide Them to Successful Outcomes
Looking to expand its expertise in the world of crytocurrencies, New Alchemy seized the opportunity to make intelligent use of data to better advise customers. Gaining a deeper understanding of proprietary and external data streams enabled the New Alchemy team to be predictive about Initial Coin Offerings (ICO) success.
Deploying datacenter infrastructure at scale for a major Software-as-a-Service (SaaS) provider
To exceed its application performance standards, a publicly traded SaaS client relies on dedicated datacenter infrastructure. To keep pace with global growth, it turned to Redapt for datacenter hardware, rack integration services, and international transportation logistics.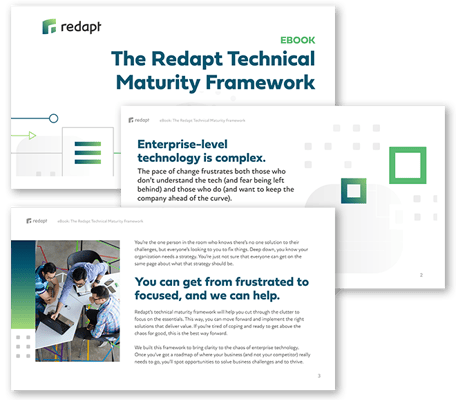 EBook
Read about it in our eBook: The Redapt Technical Maturity Framework
Contact us to gain a little more clarity
We love a challenge. Tell us about your needs and goals, and the obstacles in your way. We'll help you find solutions to get past them.
Get in touch directly:
results@redapt.com
(425) 882-0400
Keep up with Redapt
Stay informed on our latest developments, updates, and services. Sign up for our newsletter today.