Advanced Data & Analytics
Advanced data and analytics provide your organization with insights on everything from customer trends and needs, to developmental efficiencies and opportunities for workflow optimization.
We can help you deploy and successfully put to use advanced data and analytics throughout your organization.
The Redapt approach
We believe in helping our clients get the most out of advanced data and analytics. We can assist you with:
Data & Analytics Strategy
Skills Enablement
Data Platform Implementation
Reporting & Visualization
Machine Learning & Data Science
Core services
Redapt's advanced data and analytics solutions enable your organization to easily collect, analyze, and learn from data.
End-to-end analytics planning

so your organization has a blueprint for how best to utilize data.

Cloud-based business intelligence acceleration

to help you collect and better understand data.

Big Data platforms

to store large amounts of data and make it readily available for your organization.

Machine learning & data science

to help your organization continually process and utilize data.
Service Packages
Rapid Data Platform Modernization
Begin to unlock the value within your data. With Redapt services, your enterprise can gain insights from a modern data platform in just 30 days.
Additional resources
Learn more about what Redapt's advanced data & analytics services can do for you.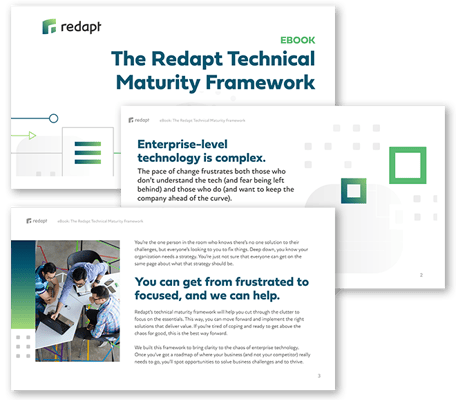 eBook
The Redapt Technical Maturity Framework
Ensuring you have the right infrastructure in place takes time and research. Most of all, it takes a deep understanding of the tech you're already using. Learn how our framework can help you cut through the clutter so you can move forward with implementing the right solutions for your company.
Contact us to gain a little more clarity
We love a challenge. Tell us about your needs, goals, and the obstacles in your way. We'll help you find solutions to get past them.
Get in touch directly:
results@redapt.com
(425) 882-0400
Keep up with Redapt
Stay informed on our latest developments, updates, and services. Sign up for our newsletter today.