Insights > Customer Stories
When a leading mobile messaging and customer experience agency recognized there was an opportunity to reduce the infrastructure provisioning time of its internal ticketing system for customers, it turned to Redapt for help with the project.
In a nutshell
1
The problem
Attempting to reduce infrastructure provisioning time for its customers, the platform services team of this major mobile messaging and customer experience agency engaged Redapt to recommend and implement a strategic platform and tools that would replace a sluggish and outdated manual ticketing system.
2
The solution
The Redapt team proposed AWS as the client's new cloud platform, HashiCorp Terraform for provisioning automation, and selected Metrics Collection (a sophisticated infrastructure service) as a deployment reference architecture.
3
The outcome
Redapt's team of experts crafted a modernized "DevOps Center of Excellence," using the Metric Collection as and example of how Terraform was used to reduce the client's infrastructure provisioning time. The newly built DevOps COE helped the client's platform services team champion DevOps adoption across the organization.
Moment of clarity
To improve velocity and better support its 180+ large enterprise, global mobile carriers, our client recognized the need to modernize its fragile and slow legacy ticketing system.
What the company needed
Redapt provided the DevOps, AWS, and Terraform expertise that the client needed to achieve its important goals for velocity and quality of service.
Our recommendation
Architecture to support high transaction volume

Highly availabi

lity

across

three AWS r

egions

Optimiz

ation of total

cloud cost

D

ynamic

ability to

scale and apply changes to the environments

Reference architecture to use as deployment template for other applications
The Architecture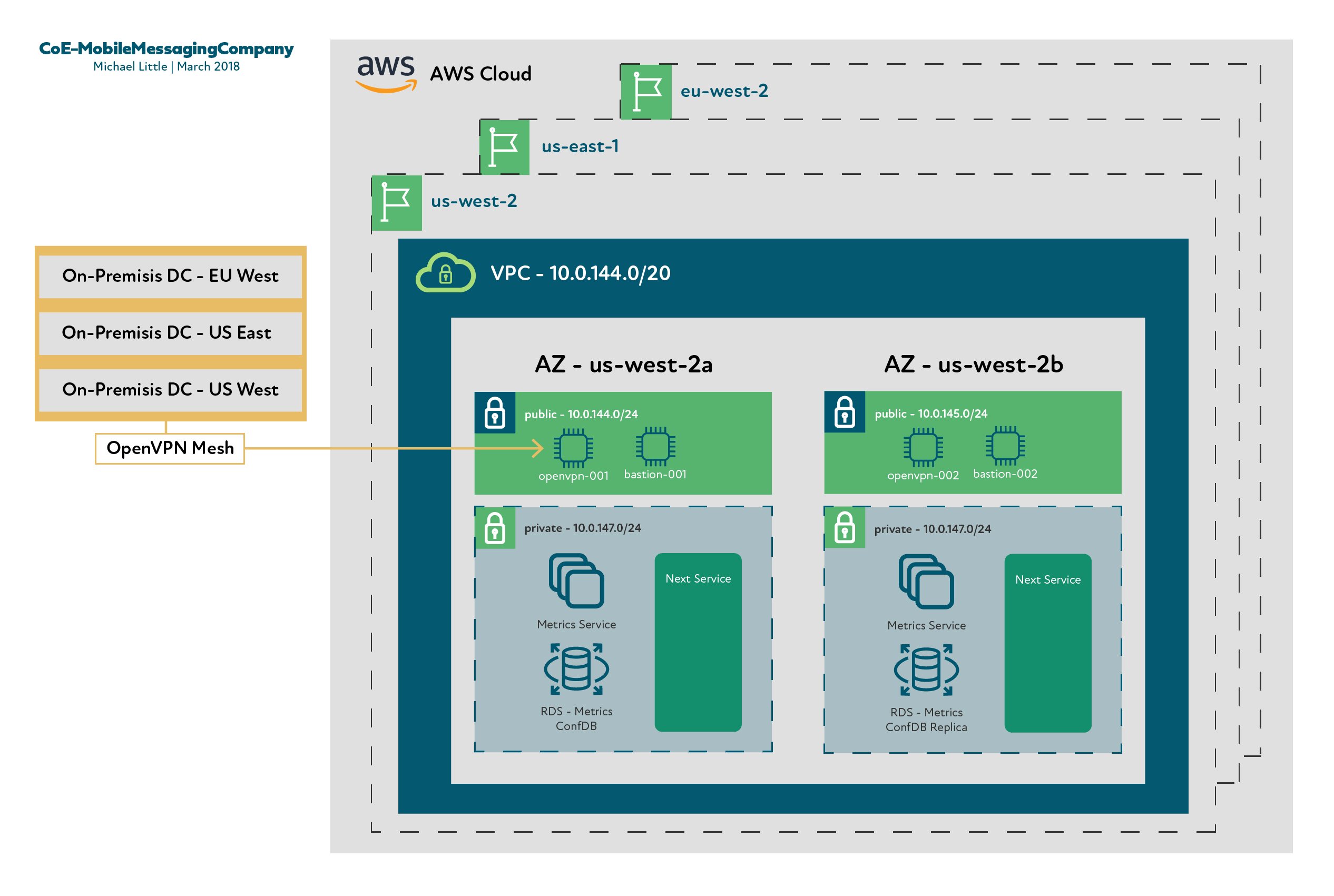 The end result
Our client safely and securely replaced its fragile and sluggish legacy ticketing system with a cloud-based Metric Collection service, utilizing AWS and Terraform.
Reducing the client's

infrastructure provisioning time.

Massively improve the client's

ability to meet customer demand faster and more efficiently.

Utilizing the new service to enable

the platform services team in evangelizing modern DevOps practices throughout their new Center of Excellence.
Contact us to gain a little more clarity
We love a challenge. Tell us about your needs, goals, and the obstacles in your way. We'll help you find solutions to get past them.
Get in touch directly:
results@redapt.com
(425) 882-0400
Keep up with Redapt
Stay informed on our latest developments, updates, and services. Sign up for our newsletter today.