Dell Technologies
and Redapt
As a highly exclusive, long-standing Dell EMC Titanium Partner, Redapt helps organizations leverage a world-class suite of datacenter technologies to solve the most complex business issues and digitally transform IT for our customers.
Dell EMC
Titanium Partner
As one of the first members of the Dell channel partner program, Redapt is a proud Titanium Partner with a datacenter and emerging technology focus. As 2x Partner of the Year, Redapt services top Dell EMC Fortune 100 and hyperscale customers.



Our
Dell EMC
Capabilities
System integration of datacenter and enterprise infrastructure
Redapt provides solutions to streamline the deployment of production-ready datacenter infrastructure in addition to automated configuration and software installation. With logistics and global capabilities, you can innovate faster than ever before.
Emerging Technology Expertise
With expertise across VMware, hybrid cloud and cloud native, artificial intelligence, advanced data storage and data science, the Redapt team helps clients accelerate their digital transformation goals.
Technology Engineering Services
To help you realize value from your technology investments, Redapt experts provide workload performance engineering, data system design and implementation, datacenter network architecture, and advanced analytics and data science.
Success Stories
Deploying Datacenter Infrastructure at Scale for a Major SaaS Provider
To exceed its application performance standards, a publicly traded SaaS client relies on dedicated datacenter infrastructure. To keep pace with global growth, it turned to Redapt for datacenter hardware, rack integration services, and international transportation logistics.
Streamlined Datacenter Appliance Distribution for an Enterprise Software Company
As an enterprise software company's revenue boomed, so did demand of its datacenter appliance. To meet its increasing demand, the enterprise software company partnered with Redapt to manage manufacturing and distribution.
Rack Integration & Services Help Turn Hardware Orders Around on the Quick
When a Fortune 100 financial firm found it challenging to deploy hardware on accelerated schedules, they partnered with Redapt to spec-out and implement a solution.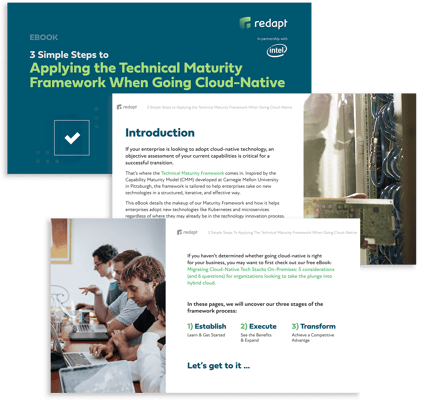 ebook
An objective assessment of your enterprise's current abilities is critical for a successful transition into the cloud.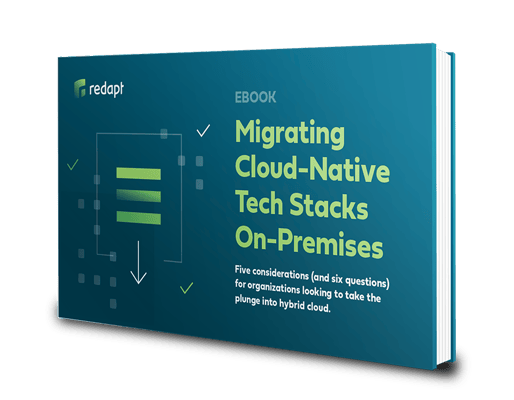 Resource
What should you keep in mind when exploring cloud-native on-premises solutions?
Our new eBook, Migrating Cloud-Native Tech Stacks On-Premises shares the 6 questions every organization should ask before taking the plunge on cloud-native tech stacks on-premises.
Contact us to gain clarity with
Dell EMC

Keep up with Redapt
Stay informed on our latest developments, updates, and services. Sign up for our newsletter today.