Over the past year, the need to expand remote work capabilities has forced a great many enterprises to accelerate their cloud adoption plans.
This pressure has compacted the normal cloud adoption timeline, a fact that makes having a solid cloud adoption framework more critical than ever.
While every cloud provider has its own framework for adoption, for this post we'll look at the framework Redapt often helps enterprises follow when adopting Microsoft Azure.
What adopting the cloud means for your organization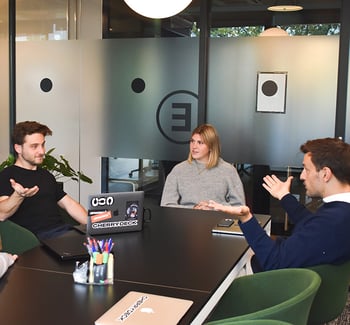 Adopting the cloud fundamentally alters the way your organization leverages its technology resources. In particular, it:
Reduces your ownership responsibility
Removes the need for time and resources to be spent in support of traditional technology services such as infrastructure
Provides you with scalable resources and controllable costs
These are all very real benefits but in order to realize them, your organization needs to align your own operations and culture. In other words, everyone needs to be on the same page about both adopting the cloud and what your operations will look like moving forward.
That's where the cloud adoption framework comes in.
The Redapt cloud adoption framework in a nutshell
There are generally a series of steps to creating a cloud adoption framework: strategy, planning, readiness, and adoption.
Strategy is when we work with your organization to understand motivations, business justification, and desired business outcomes from adopting the cloud.
Planning involves evaluating your digital estate to identify which parts of that estate can and should be migrated to the cloud. We also prioritize and create an action plan for migration and define and implement your organization's skills readiness.
Readiness is when your adoption guidelines are implemented, a cloud landing zone (more on this later) is created, and best practices are kicked into motion.
Adoption is the heavy lifting of the framework, where migration is charted out and a guide developed to make the move to the cloud as efficient and secure as possible.
Beyond these four steps, there are two all-important considerations that need to be focused on. One is governance: how much you will be spending on the cloud, how you can control those costs, and your security baselines.
The other is management: how your organization will be structured, how your workflows will be optimized, and so on.
So what's a cloud landing zone and why do you need it?
Enterprise-scale landing zones have a principal purpose: to ensure that when an application or workload lands on a cloud platform like Azure, the required "plumbing" is already in place.
This plumbing provides your organization with greater agility and compliance when it comes to implementing security and governance requirements. In other words, it helps you test the waters for safety before taking the plunge.

The Azure Enterprise Cloud Adoption process
There are four phases to our Azure Enterprise Cloud Adoption process. These are:
1. Review
A full assessment of your current infrastructure, application, and services. The goal is to find those elements that have the potential for modernization, along with building a cost analysis projected for Azure services.
2. Design
Azure architecture is designed to support migration, and cost-savings tools like Enterprise Agreement, Azure Reserved Instances, and Azure Low Priority VMs are considered for potential use.
3. Execute
Proof of concept applications are migrated via Azure Site Recovery, governance for Azure hosted workloads are documented, and deployment of infrastructure to Azure is automated.
4. Training
Finally, your teams are trained on Azure technologies. This is often known as Day 2 operations, where your organization is handed the keys armed with all the information and skills they need to utilize the Azure platform.
To sum up …
This is just a high-level look at a cloud adoption framework.
In order to make a safe and secure migration to the cloud, you need to follow a path designed to help you leverage premier solutions that maximize your investment, future-proof your infrastructure, and help you develop the skills you need to increase your innovation.
Frameworks like our Azure Enterprise Cloud Adoption Program help you break through the common challenges organizations face when making the move to the cloud. Challenges like:
Identifying applications suitable for the cloud
Preparing your cloud infrastructure
Migrating safely and securely
Managing your cloud environments going forward
To learn much more cloud adoption, read our guide Adopting and Migrating the Cloud.
Fill out the form below to find out if your organization qualifies for 10 free hours of consultation with our AI/ML experts.