The world of DevOps and cloud-native computing is constantly evolving, and as a result, there are now several cloud services available to companies looking to adopt a cloud-based infrastructure. However, with so many options available, it can be difficult to determine which service is best suited for your needs. In this blog post, we will explore the differences between Amazon EKS Anywhere, AWS Outposts, and Amazon ECS Anywhere, the services they provide, and the challenges that cloud-based companies face when adopting these services.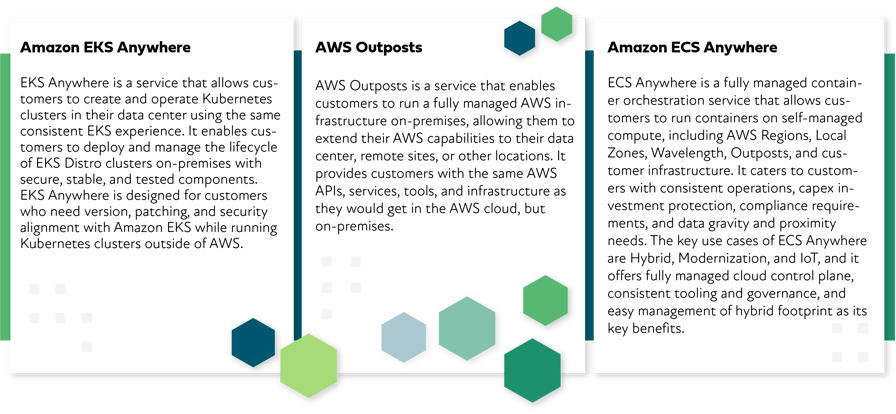 In summary, ECS Anywhere offers a fully managed container orchestration service while EKS Anywhere provides a managed Kubernetes service, allowing customers to choose the one that suits their needs and preferences. While AWS Outposts provides customers with the ability to run AWS infrastructure on-premises, and both ECS Anywhere and EKS Anywhere can run on it, enabling customers to run container-based workloads and Kubernetes clusters on-premises with the same consistent AWS experience as in the cloud.
Challenges for cloud-based companies
One of the biggest challenges cloud-based companies are facing is the cost of adoption. Many of these services can be quite expensive, which can be prohibitive for small to medium-sized businesses. Additionally, some companies may be hesitant to adopt cloud-based infrastructure due to concerns about security and data privacy.
However, it is important to note that while these challenges may exist, they should not deter companies from exploring these services. While the adoption of cloud-based infrastructure may not be right for every company, there are many benefits to be gained from adopting these services, such as increased flexibility, scalability, and agility.
Diving into Kubernetes and EKS to achieve greater flexibility

One customer story that highlights the benefits of adopting cloud-based infrastructure is
Diving into Kubernetes and EKS to Achieve Greater Flexibility
, when Redapt helped a healthcare SaaS provider migrate from ECS to EKS in order to achieve greater flexibility with its cloud environments. The healthcare company was able
to establish a best practice Kubernetes environment on AWS, leveraging EKS.
Trust Redapt's experts to address your AWS challenges
Redapt is a designated AWS Service Delivery partner for Amazon Elastic Kubernetes Service (Amazon EKS), which reflects its demonstrated success in helping clients to architect, deploy, and manage containerized workloads on top of Amazon EKS.
According to Rizwan Patel, Redapt's Field Chief Technology Officer, "The Amazon EKS Service Delivery Program designation is a testament to the deep expertise that Redapt brings to our customer engagements, helping them elevate their maturity through our RTEP (Redapt Technology Evolution Playbook) which has the goal to drive innovation, agility, resiliency, security, cost savings, operational excellence, and performance efficiency across a four-pronged paradigm of people, process, technology, and business priority."
Offerings to consider
Redapt has several offerings available to help companies optimize their use of these services. For example, the AWS Kubernetes Service Accelerator can help companies accelerate their Kubernetes adoption by providing best practices, automation tools, and ongoing support.
Additionally, leverage AWS-native tools along with Redapt's proprietary migration technology to create an experience tailored to the needs of your business with the AWS Migration Package Offering.
Furthermore, The AWS Managed Cloud Cost Optimization Offering provides clients with monitoring and management of their cloud-based infrastructure through the integration of CloudHealth by VMware.
Benefits of cloud-based infrastructure outweigh the challenges
In conclusion, while there are many options available when it comes to cloud-based infrastructure, it is important for companies to carefully evaluate their needs and choose the service that best meets their requirements. Whether it's EKS Anywhere, Outpost, or ECS Anywhere, each service provides unique benefits that can help companies achieve greater flexibility and agility. While cost and security may be factors that need to be considered, it is important to remember that the benefits of adopting a cloud-based infrastructure can far outweigh the challenges.
With the right planning, implementation, and ongoing management, companies can take advantage of the many benefits of cloud-based services and achieve greater efficiency, scalability, and agility in their operations. So, whether you are just starting your cloud journey or are already using cloud services, it is never too early to learn and explore the various options available to you.
Don't hesitate to contact one of our experts to learn more about these services and how to adopt them to address your needs!
Get Your Free Enterprise DevOps Playbook
Gain a better understanding of the business implications of DevOps and how you can find success within your organization.