Redapt is proud to announce the development of its Zero Touch Provisioning (ZTP) project to reduce the potential for errors and Return Manufacturer Authorizations (RMA) delays, resulting from a manual process, ensuring customers receive validated and baselined data center (DC) rack rollouts.
Problem
Manual data center rollouts result in increased errors and RMA delays.
Solution
Implement Redapt ZTP.
Background
We're creating an automated, agnostic, Original Equipment Manufacturer (OEM) process to baseline, configure, upgrade, deploy, audit, and validate DC rack switches and servers.
Redapt has a lot of experience with large-scale data center deployments. We've rolled out thousands of racks and understand the variables associated with a manual process. With our in-house DevOps team, we are working with many OEMs in parallel to automate this process with something you can load on a server, bare metal x86 switches, or a device you can store in your pocket. We project our ZTP process will enable us to baseline and audit a new physical rollout, an existing one, or a virtual network in a matter of minutes.
Case Study 1 "" A manual rollout build
Imagine a scenario where we have two different customers, each with hundreds of racks fully loaded with servers and Top of Rack (ToR) switches. Each client may have different build-outs, OEM chassis, servers, and configurations. They could even use the same OEM physical build-outs, but the desire to customize their configurations of Operating Systems (OS), hostnames, IP addresses, Virtual Local Area Networks (VLAN), and time zones. Using a manual process, this could take up to ten engineers four hours per rack to stage and manually audit the software configuration builds, resulting in an increased error possibility and delay in the RMA process.
For instance, for Customer A, take ten installers, assign each to ten racks at four hours/rack. That equates to 400 hours to stage Customer A's 100 racks, meanwhile, ensuring each rack device has the correct configuration, OS, licensing, and is working as expected.
Next, take Customer B's build-out, using either the same ten installers or ten additional installers. This could equate to another 400 hours with an increased chance of errors and RMA delays.
With build-outs for Customer A and Customer B, a manual process equates to approximately 800 man hours with an exponentially increased chance for errors and RMA delays.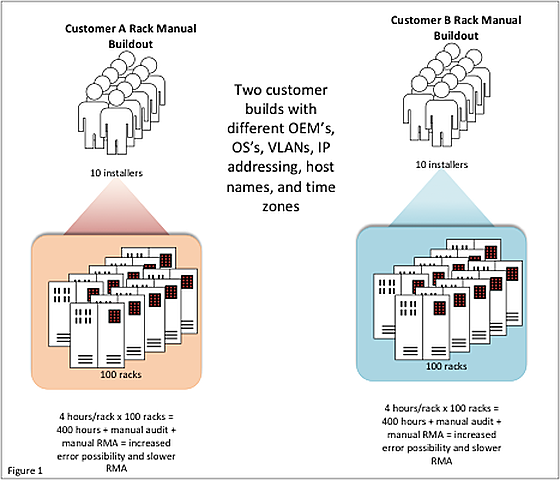 Case Study 2 "" An automated rollout build using Redapt ZTP
Take the same scenario, the same customers, the same build-outs but reduce the staff down to one or two installers. Using a central portal, built virtually as a container or a Virtual Machine (VM), we upload golden configurations, licensing, OS's, and validation tests, fully baked in a Proof of Concept (POC).
Instead of manually configuring and auditing each switch and server, one to two installers cable the racks to the staging switches, as with the manual process. This case is different. The switches and servers automatically download, install and audit themselves, pushing the audits to a central repository where the installers can use observer RED, YELLOW, and GREEN status variables, required for the validation and determination for RMA.
Imagine the possibilities of a validated Redapt ZTP process for Customer A and Customer B in this scenario. An automated process means the potential for fewer errors and RMAs upon the delivery to the end user.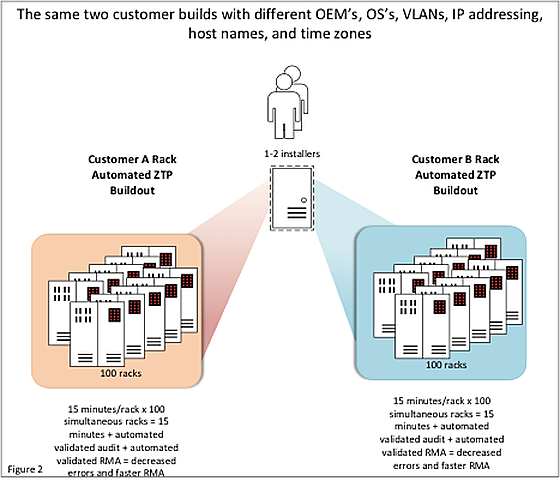 Summary
Redapt and its OEM partners realize that their customers deserve an expedited and validated staging and delivery process. We expect our ZTP process will help us provide an, even more, quality assured experience, automated, POC tested, and fully baked to reduce the potential for errors and RMA processing!