State of the industry
Retail used to be relatively simple, consisting of brick and mortar stores with analog cash registers and books to track inventory.
But as the use of technology advanced in retail stores, traditional systems and inventory books were replaced by POS systems and financial software.
As more and more components are added to retail systems, like anti-theft security, edge solutions have taken on a greater role within the industry.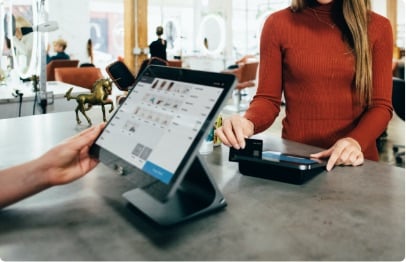 Common challenges
Every new layer of technology deployed in a location increases the complexity. This can make running the software within a store, and maintaining consistent versions of software across a range of stores, a major challenge.
In addition, communication between store locations—management, distribution, inventory, etc.—needs to be consistent, accurate, and secure.
The retail edge solution
A well implemented retail edge solution enables simplified application deployment, configuration management, and security across every site. Retailers can have visibility to all their in-store systems in a single pane of glass and push new applications and updates with the click of a button.
Consolidated data allows critical insights that inform everything from improved product placement to cost-saving anti-theft measures.
Where Redapt + Dell come in
In partnership with Dell, Redapt can provide turnkey solutions for retail edge. This includes:
Hardware procurement and testing to expedite the deployment of new hardware at its destination and reduce time-to-value
Software installation and optimization to ensure edge solutions are able to fully integrate with your existing systems
Shipping and other logistics to ensure your new infrastructure is where it needs to be when it needs to be there
Adoption of containers, Kubernetes, and Google Anthos at a centralized location for consistent and simultaneous updates and the launching of new systems
Retail edge success stories

Get Visibility Across Retail and Supply Chains Right Out of the Box
In the retail industry, businesses are increasingly adopting edge solutions to deliver new and creative experiences for customers.
In our free demo, you will learn how this edge-to-cloud solution:
Centralizes how your applications and systems are updated and managed
Helps you gain flexibility and quickly put to work insights from your data
Ensures consistency in the deployment of new features and updates to help you scale as fast as possible
Getting started with retail edge
Learn about our retail edge solutions
Start leveraging the speed, power, and flexibility of edge technology to create visibility and maintain security while creating new experiences for your customers.
Ready to get started?
Schedule some time with one of our retail edge experts to learn more about how we can help you find and implement the right solution for your business.
Contact us to gain a little more clarity
We love a challenge. Tell us about your needs, goals, and the obstacles in your way. We'll help you find solutions to get past them.
Get in touch directly:
results@redapt.com
(425) 882-0400
Keep up with Redapt
Stay informed on our latest developments, updates, and services. Sign up for our newsletter today.