According to projections from the International Data Corporation (IDC), worldwide IT spending is expected to reach $5.3 trillion in 2020.
Fueling this substantial investment are a number of factors, including aging IT infrastructure, the rise of the Internet of Things (IoT), and the growing prominence of cloud technology.
Our new whitepaper examines what is likely another driving force behind the projected increase in IT investment: app modernization.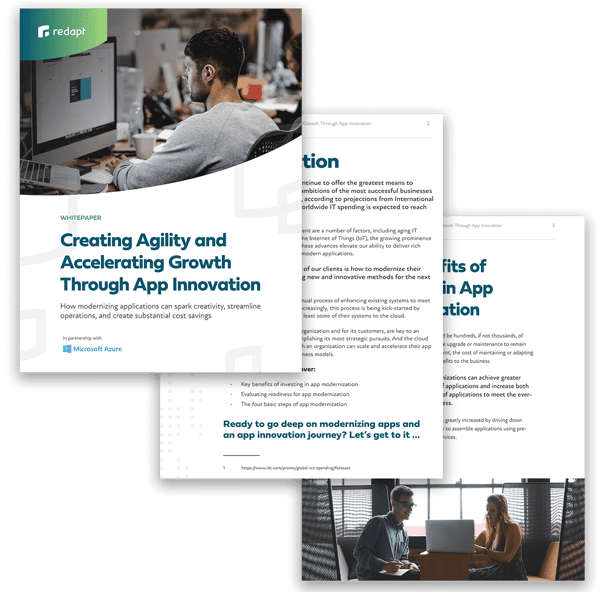 Here's an excerpt from the section highlighting the key benefits of app modernization:
Key benefits of investing in app modernization
Traditional applications are built to get the job done. Modern applications impact how the job is done.
Modern applications are elastic, which makes it possible for them to grow with increased utilization and demand, then scale down automatically when demand recedes.
Because of this elasticity, enterprises are able to use resources more efficiently and substantially lower IT costs — all while accelerating the deployment of new products and services to customers.
When paired with cloud-native architecture, app modernization also introduces more resilience architectures — or the ability for applications to be fault tolerant and self-healing. This optimizes the availability of a given application while also reducing potential downtime if a particular region experiences a network outage.
Finally, app modernization creates new lanes of innovation by giving developers more flexibility in how they work. Through modernization, developers can:
Customize apps in an almost limitless fashion
Enable DevOps to unlock CI/CD and automation
Make applications seamlessly mobile
Any organization relying on a portfolio of legacy applications should consider app modernization. To learn more, download our free whitepaper Creating Agility and Accelerating Growth Through App Innovation.