Artificial Intelligence
AI can unlock insights found in large amounts of data, as well as help your organization manage a number of repetitive tasks.
Our engineers can help you deploy AI throughout your organization.
The Redapt approach
We believe in helping our clients fluidly implement AI throughout their company. Our data engineers and scientists can:
Define an AI Vision & Roadmap
Prepare Data for Analytics
Recommend AI Solutions (Cloud & On-Premises)
Perform Data Engineering & Science
Core services
Redapt has a team of data engineers, data scientists, and software engineers with the expertise to employ AI throughout your data infrastructure.
Data set preparation

so your organization is ready to deploy AI quickly and efficiently.

AI integration services

from installation to deployment.

Hardware recommendation

to ensure your organization is able to effectively utilize AI.

Application deployment

to get AI up and running.
Additional resources
Learn more about what Redapt's Artificial Intelligence services can do for you.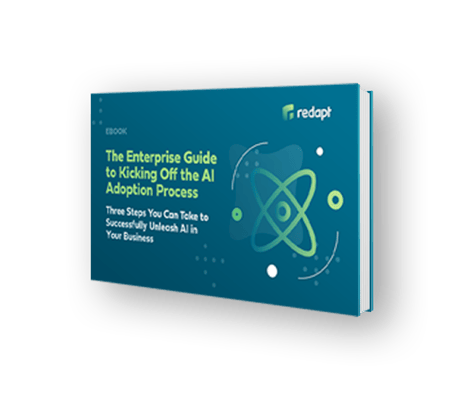 eBook
The Enterprise Guide to Kicking Off the AI Adoption Process
Our free eBook walks you through the three steps you need to take to successfully bring AI solutions to your enterprise. Learn how to overcome major roadblocks to start leveraging the power of artificial intelligence today.
Contact us to gain a little more clarity
We love a challenge. Tell us about your needs, goals, and the obstacles in your way. We'll help you find solutions to get past them.
Get in touch directly:
results@redapt.com
(425) 882-0400
Keep up with Redapt
Stay informed on our latest developments, updates, and services. Sign up for our newsletter today.