Emerging Technology Integration
Every day new technologies and services arrive on the scene.
We can help you determine which new technologies fit with your overall technology strategy and integrate them into your business.
The Redapt approach
Our goal is to provide you with a thorough understanding of emerging technologies and how they can benefit your business. We will:
Examine Emerging Technologies
Identify New Technology to Benefit Your Business
Provide Proof of Concept
Enable Your Team for Successful Adoption
Core services
As emerging technologies arrive on the scene, Redapt can help your organization identify and put to use innovations uniquely suited for your business.
Vetting of emerging technologies

to help you keep track of innovations and understand how they benefit your organization.

Conduct & assessment

so you understand potential organizational gaps before taking the plunge.

Implementation & training

so you can quickly put new technologies to their best use.
Additional resources
Learn more about what Redapt's emerging technology integration services can do for you.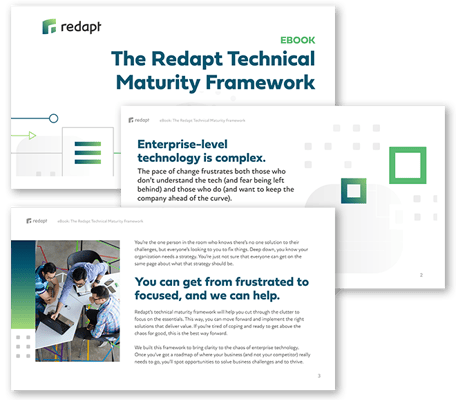 Ebook
The Redapt Technical Maturity Framework
Ensuring you have the right infrastructure in place takes time and research. Most of all, it takes a deep understanding of the tech you're already using. Learn how our framework can help you cut through the clutter so you can move forward with implementing the right solutions for your company.
Contact us to gain a little more clarity
We love a challenge. Tell us about your needs, goals, and the obstacles in your way. We'll help you find solutions to get past them.
Get in touch directly:
results@redapt.com
(425) 882-0400
Keep up with Redapt
Stay informed on our latest developments, updates, and services. Sign up for our newsletter today.