Public Cloud Implementation
Public cloud solutions greatly increase the agility of your organization without the need for datacenters and infrastructure.
We can work with you to find and put to work the right public cloud service.
The Redapt approach
We believe in providing an all-encompassing public cloud implementation framework. We will:
Assess Your Cloud Needs
Give You an Adoption Framework
Navigate Migration Challenges
Implement Best Practices
Core services
Redapt can help your organization find the right public cloud services and ensure the marrying of your needs and the public cloud occurs in an efficient and secure way.
Cloud maturity framework assessment

to determine the capacity and technology best suited for your organization.

Cloud architecture recommendation

so you can assess for yourself which services will most benefit your organization.

Migration challenge navigation

so the transition to the public cloud won't lead to disruptions or downtime.

Best practices implementation

to address security, compliance, and governance.
Additional resources
Learn more about what Redapt's public cloud implementation services can do for you.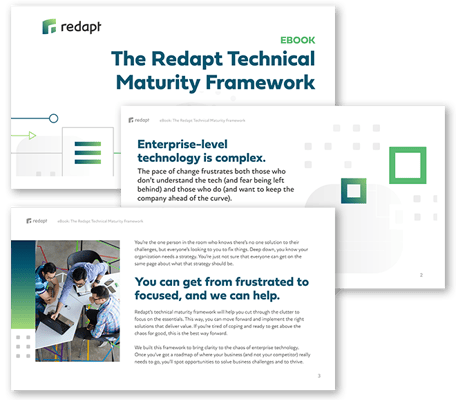 Ebook
The Redapt Technical Maturity Framework
Ensuring you have the right infrastructure in place takes time and research. Most of all, it takes a deep understanding of the tech you're already using. Learn how our framework can help you cut through the clutter so you can move forward with implementing the right solutions for your company.
Contact us to gain a little more clarity
We love a challenge. Tell us about your needs and goals, and the obstacles in your way. We'll help you find solutions to get past them.
Get in touch directly:
results@redapt.com
(425) 882-0400
Keep up with Redapt
Stay informed on our latest developments, updates, and services. Sign up for our newsletter today.